My travel plans are largely guided by the need to get an impressive Facebook profile picture.
Over the past few years I have generally looked for something with an epic landscape/ geographical wonder, and then plonk myself in the foreground.
This has taken me across Latin America, India, and after recenlty touching down in East Africa, I was now going in search across the border to the Democratic Republic of Congo (DRC)
1.
After an early evening at the house of lounging on the outdoor sofas and brushing up on Rwanda manners we stashed our rucksacks in the 4×4 and took to the road.
Our group of 5 were meeting 5 others near the Rwanda/ DRC border – all friends, or friends of friends.
It was roughly a 3 and half hour journey spent discussing previous travels to the sound of Spotify, streamed via 4G. After a few turns out of the city it was essentially one road to Gisenyi and it was paved the whole way.
Some heavy going vehicles were particularly sluggish up the winding hills, and full beamed lights from cars in the opposite direction were a minor, but seemingly inevitable annoyance.
We had a pit stop for food at a roadside service station. Olly and Effy (housemates I'm staying with) had been raving about the potatoes that this particular stop was famed for.
Despite fundamentally being a plain jacket potato they were indeed magnificent. After stocking up on biscuits for the next day we continued into the night, arriving at our hostel at just after half ten.
2.
Our guide Tresor picked us up at 6am the next day and we took a short taxi journey to the border crossing, passing early morning joggers.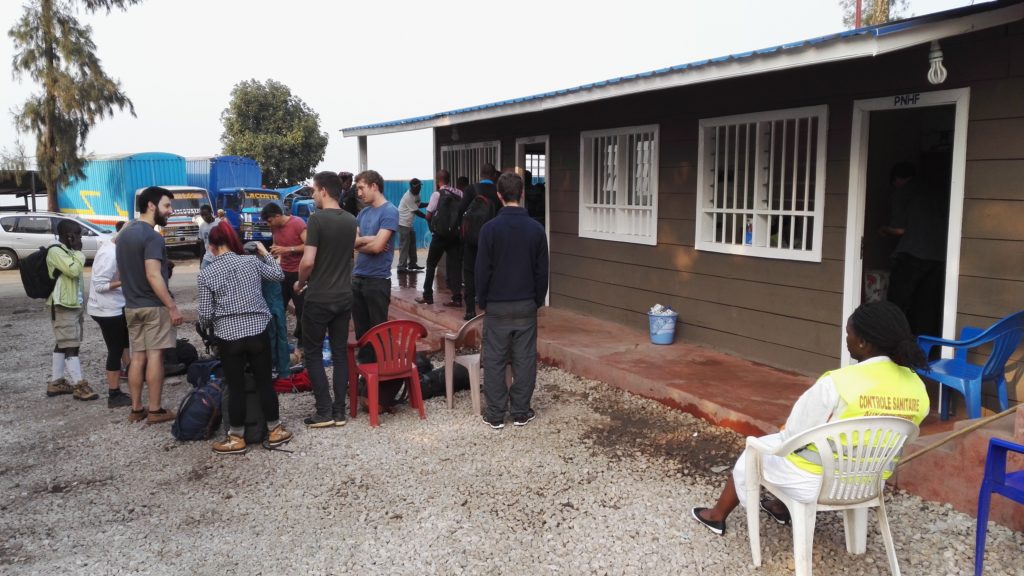 There was a couple of hours of bureaucracy outside the passport office as we handed in our documents and chucked around a frisbee, at one point passing back to Rwanda, much to the displeasure of one of the guards.
"Time is flexible", Tresor assured us, and we ate our breakfast boiled eggs.
Around 9.30am we piled into our minibus and bumped our way through the DRC border city of Goma. It was certainly different to what I'd seen in urbanised Rwanda so far, with wooden shacks on the roadside and the occasional open fire.
There were also clumps of volcanic rock all around.
This apparently came from a volcano eruption in 2002 which covered the surrounding area in lava. We were told there was negligible chance of another eruption any time soon, and so continued up the rocky roads to National Park entrance.
3.
This whole trip was billed as a baptism of fire when Olly emailed me a couple of months ago to see if I was interested.
I mentioned it to the guys at work and when the words "volcano" and "Congo" were said within the same sentence, my friend Pete's eyes lit up.
"The one where you can see the lava?!"
After establishing that this was on my well-travelled colleague's bucket list, I replied to Olly with a yes-it's-definitely-not-dangerous?-OK-yes-yes-I'm-in.
In researching, I discovered the following facts about the volcano
it is one of the most active in Africa
it is famed for its "lava lake"
it is ~3,500 metres to the peak
Once we pulled up at the entrance, received our bilingual briefing (they speak French in DRC, as well as catering for the English) we made our first steps up the trail, looking forward to discovering this all for ourselves.
4.
Halfway up we made a pact to not discuss the inevitable rucksack sweat, and sat down to nibble on the small shortbread-y snacks provided by our guide and troupe of porters.
Our group was a diverse one. As well as our band of Kigali bright young things we had a few independent travellers, some couples, and a family from Holland.
Everyone was most impressed by the 9 year old daughter comparatively skipping up the steep inclines past the elder huffers and puffers, and didn't envy her classmates responding to the inevitable "so what did you get up to on your summer holidays?"
The volcano continued to seem ominously distant and we flipped between taking each step as it came and mentally preparing to grapple the steepest ascent near the top.
We went through a few terrains, and at times lost footing to crunchy blocks of volcanic rock which served as our path.
The cabins we were to be staying in that night at the top of the crater became more and more visible, and streams of smoke began to appear on the horizon.
5.
The Democratic Republic of Congo is huge.
I didn't realise, but we're talking the size of Western Europe. To get from one side to the other is about a 5 hour flight, and is the distance from the tip of France to Hungary.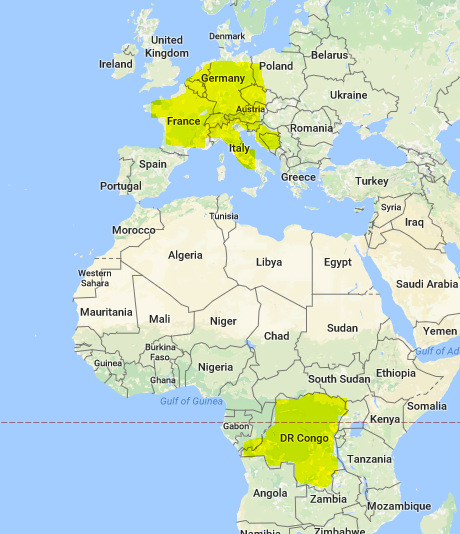 Comparatively, we were in Calais.
The Nyiragongo volcano is in a small international club of other volcanoes that are not only active, but also have a visible lava lake. It's also the largest, but who's counting.
I'd not quite processed this fact before stepping up the final stage and looking down upon what was effectively the Eye of Sauron.
Our whole group was pretty awestruck and spent about an hour just marvelling at the bubbling orange lake about 400 metres in front of us.

The crater was almost other worldly, cliffs of rock stepping down to a splashy pool of molten lava.
There were some comparisons made ("it's kind of like a big jammy dodger?") and we hypothesised a few potential ventures to set up at the peak:
Throwaway rings: sold for that perfect Gollum profile pic
Drone snacks: a quick dash to melt your marshmallows
By night though, the show got even better.
6.
Dinner was a delight.
Our chef (Armani) had been stoking up the charcoal in one of the huts and rested a metal pan that contained his "secret soup".
We huddled around and Eric played Mum, dishing out bowls of warm vegetable broth.
Tresor flicked on the radio and were (somewhat) surprised that Justin Bieber had come to join us.
The ten of us then took turns to both compliment how it was tasty and nourishing, sure to check that it wasn't the altitude talking. In the morning we found an abundance of MSG products by the stove, but let's not dwell on that.
As the sun began to set we trotted back up to the crater to peer down at our new favourite eye candy.
The dusk intensified the deep oranges below drawing our gazes even more and we all agreed it was time to capture the moment on camera.
7.
My last attempt at a profile pic had been taken nearly two years ago and in my ongoing search for a decent one, this seemed a credible opportunity.
With varying degrees of smile, pensivity, and amazement we rotated from a few prime spots to share our trip with friends back home.
In typical fashion I pulled a medley of these expressions and asked the photo taker to just keep snapping. Out of the portfolio I found that seemed to best capture the emotion of what I was seeing.
and you can see some outtakes at the bottom of this post.
Tresor, our guide, got in on the act and I shared the pics I took of him on WhatsApp when back on flat land.
We took turns to pass around the hipflask and appreciate how even though humans have now invented the iPhone, a group of ten homo sapiens thousands of years ago would have shared our current wonder.
8.
The morning began at half five for one last gaze session at Nyiragongo and then a hilltop continental breakfast.
We began our descent and four hours later were passing the next group up to get a new profile pic for themselves.
Time was spent confirming what food types we'd eat for the rest of our life, traits we shared with parents and whether we could build an egg business that could guarantee double yolkers.
Tresor guided us back to the border, and after showing our passports to more officials than we thought possible we were back in Rwanda and en route to a fish and chips lunch by the side of Lake Kivu.
Tourism for development
One thing I hadn't really grasped was the impact that our trip was having on people of the local Goma community.
Porters earn $24 USD for transporting luggage/ pots/ water up and down the volcano and in a community where the majority of the population live off the land, or scrape a living in the city, our total group of ~24 people had contributed ~$10,000 USD to the local economy.
After the 2002 eruption devastated much of the commercial district, and the DRC rebels destroyed the previous camp that was set up on the volcano top, tourism has been slow.
The country still has a pretty bad rep (I certainly wasn't considering it as a weekend getaway) but can honestly say I found it an incredible trip.
Probably in my top five of all time.
Persuading people to take the journey across the border to see what is (in my mind) a phenomenal geographical wonder is their #1 priority for getting francs and dollars flowing through the local economy.
The tour we took
With this in mind it seems only right to share some of the details of our adventure and how (if you find yourself in East Africa) you can get involved too.
Tour company: Kasitu Eco Tours  (though there are others)
Cost: $300 Park Entrance + $100 Visa Entry + $80 Guide/ Food/ Water
Gear: sturdy walking boots (possible in trainers, but it gets quite slippery), sleeping bag (rentable for $10), layers/ waterproofs (can get cold/ wet)
Wish I'd brought: binoculars
The people I've spoken to have only had positive experiences, but of course these things are a personal judgement.
Wrapping up
This concludes my fourth day in the continent and a major travel experience I didn't even know I wanted to tick off.
Fear not though, the search for a decent profile pic continues, and so those following for the epic landscapes with my face occasionally appearing will still have reason to follow.
For now though, I'm happy to be continuing East African adventure from the base in Kigali and to see what happens next…
*Outtakes